---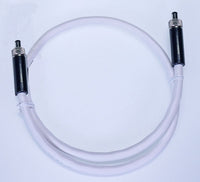 About the DC cable for LTPW05:

Our external DC power supply product LTPW05 does not include a DC cable to connect to the clock.
Therefore, please be sure to purchase this DC cable by specifying the length you need.
This cable uses a 14-gauge oxygen-free copper OFC extra-thick lead wire. The RS478-820 with a lock recommended by us is used for both side.
It is desirable to keep the distance of this unit as far as possible from the OCXO main unit. However, the effect of noise induced in the DC cable cannot be ignored if the distance is too large. We have prepared DC connection cables of three carefully selected lengths.