---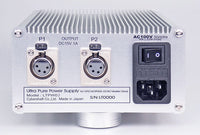 About upgrade service LTPW01(P)->LTPW02(P):

We have been testing and modifying the LTPW01(P) to further improve its sound quality.
Finally, we have developed and are now selling the external DC power supply LTPW02, which improves the sound quality of Cybershaft's OCXO clock products.
This upgrade service allows you to greatly improve the sound quality by changing the LTPW01(P) circuit, adding filter parts, and changing the output voltage to 15V.
In a blind comparison test conducted by Cybershaft staff, when used with OP15 products, they were able to identify upgraded LTPW02 products with 100% probability.
Please note that depending on your usage environment, you may not always be able to see the improvement effect.
Upgrade acceptance start date:

We will be accepting applications for upgrades starting November 15th.
A status of "SOLD OUT" means that the upgrade service has not yet been accepted.
Applications are not currently available, so please visit this page again on November 15th to apply for an upgrade.

How to apply and proceed with the upgrade:

You must send your LTPW01(P) safely packaged to our new address.
You can choose the shipping method you like, such as EMS, USPS, FedEx, DHL, etc.
You will only be shipping the main unit of LTPW01(P). There is no need to ship AC or DC cables. Also, there is no need to ship the clock unit itself.
You will be responsible for the cost of shipping LTPW01(P) to Cybershaft.
When you are shipping, please indicate on the customs declaration that "It is a shipment for repair of LTPW01(P)" and Serial number (S/N: xxxxx).
And to prevent double taxation in Japan, you must list the price of the item as US$ 50.00.
As a thank you to you, we will accept the upgrade cost only $1.00 of charge.
The cost for us to send the upgraded LTPW02 to you must be borne by you.
You can see an estimate of the shipping costs you will pay when we return your item to you after adding this service to your cart, registering your checkout information, and before paying on the next screen.
Of course, if you have any additional items you would like to purchase, you can add them to your cart and save on shipping costs. In that case, please take into account that the price of the added item will be recorded on the customs declaration.

<Cybershaft new address>
960-63 Okami-cyo Ushiku-city Ibaraki Japan
Postal code: 300-1204
Cybershaft co.,ltd. ATTN Kenji Hasegawa
Phone 029-871-4669
After you ship LTPW01(P), please be sure to email us the shipping company name and tracking number.
We will complete the upgrade work and return it in about 4 days after receiving the item.

About upgrade warranties:

We will inspect the LTPW01(P) received from you to ensure that we will send you a normal upgrade product, but the upgrade will not extend the free warranty period.
If you would like an extended warranty, please select the additional option of 1 year free repair warranty.
(Please note that the free repair guarantee for Cybershaft products means that the customer is responsible for the round-trip shipping costs for repairs.)

Regarding upgrade application expiration date and application cancellation fees:

Once you apply for an upgrade, we will process your application amount within two days.
Please send LTPW01(P) to us using the procedure above within one week after completing the application procedure.
If you cancel your upgrade application payment without shipping LTPW01(P), please be aware that a processing fee of 15% of the application amount will be charged as a refund processing fee.

Upgrade service acceptance period:

This upgrade service is scheduled to be accepted until the end of May 2024.
We would appreciate it if you could avoid applying during periods when transportation services are mixed, such as the year-end and New Year holidays.
We hope that you will be able to obtain higher quality sound with this upgrade service.